Saga, daugther of Halga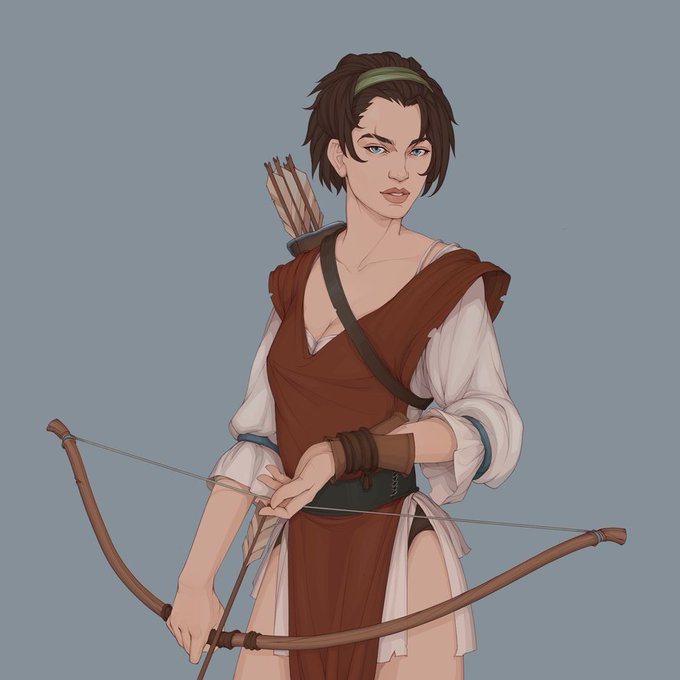 Alias: Shadow Saga
Age: 18
Race: Redguard
Gender: Female
Job: Ranger
Patron Deity: Talos
Physical Attributes
Height: 1.73
Weight: 62 kg
Build: Thin
Eyes: Light Blue
Hair: Dark Brown
Skin Tone: Pale
Tattoos/Scars/Piercings: Pierced ears, small scar on the right eyebrow
Day To Day Attire: Loose white shirt, Brown Tunic, Leather boots, trousers.( For the warmer seasons)
Psychological Attributes
Optimistic * Vengeful * Careful * Distrusting * Quickwitted * Sarcastic
Relationship Status: Single
Personality:
Habits: Play with her hair, fiddle with her dagger, narrowing eyes when seeing something interesting
Hobbies: Reading, Sneaking, 'Window shopping', Exploring
Fears: Dragons, Spriggans, Being Soul Trapped, Ghosts.
Likes: Rain, Quiet time, Books, Hot Springs, Exploring ancient locations, Fur, Bows, Music, Sweetrolls, Deserts, Nature, Camping in the Wilds
Dislikes: Thalmor, Thieves, Bandits, Fish, Big Cities, Dwemer Ruins.
History
Parents: Halga( Nord ) Imperial Soldier, Retha(Reguard) Imperial Soldier.
Siblings: None
Childhood: Became an Orphan very young and due certain circumstances her past and family was unknown to others as she was found wandering the wilderness and was send to Riften's Orphanage, even her name unknown. One day she just vanished from it, wherebouts unknown. A few years later as a young Teen, worked as a scout, ranger and explorer ever since.
Adulthood: Continued to work for hire and for herself still. Though as she grew older and time passed people's perception of her changed. By her adulthood she was making waves, was considered a young woman of some fame and had a few admirers. She gained enemies as well.
Special Moments: One of her more famous moments is when she was hired to scout out a bandit base located within an old half ruined fortress. She vanished from the imperial camp at sunset. For an entire night, the commander of the strike force waited for her to return. Come morning when they couldn't wait anymore and stormed the location what the found horrified them. All bandits were killed, some with slit necks some with arrows sticking out of their eyes. They found her laying on top of what appeared to be the bandit chief, still holding onto the arrow she pierced into his neck instead of a dagger. She was badly injured, but alive. They patched her up and she left soon after. This was the event that started off her decent popularity.
Extras
Character Quote: One arrow through the neck and it's done.
Theme Song:
https://www.youtube.com/watch?v=z3Vw2_mAxzk
Scent: Pine trees and earth.